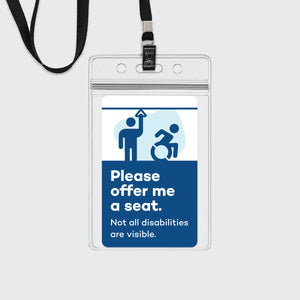 Lanyard + Sticker: "Please Offer Me a Seat"
Regular price
$0.95
$0.00
For those who have challenges standing on public transit, this sticker can help let your fellow riders know that you have an invisible disability and need a seat. The sticker goes directly on your transit card (e.g., Clipper) and is meant for wearing your transit card with a lanyard. This pack comes with the 2.13" x 3.37" sticker, a lanyard, and clear transit card holder.
Thank you to Catherine Callahan, disability advocate and member of BART's Accessibility Task Force, for bringing this idea to me and working with me on this.
Note: no profits are being made in the sale of this item. 
---
More from this collection