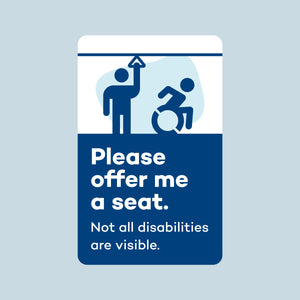 Transit Card Sticker: "Please Offer Me a Seat"
Regular price
$0.35
$0.00
For those who have challenges standing on public transit, this sticker can help let your fellow riders know that you have an invisible disability and need a seat. The sticker goes directly on your transit card (e.g., Clipper) and is meant for wearing your transit card with a lanyard.
If you need a lanyard for your card as well, please see this item: Lanyard + Sticker

Thank you to Catherine Callahan, disability advocate and member of BART's Accessibility Task Force, for bringing this idea to me and working with me on this.
Note: no profits are being made in the sale of this item. 
---
More from this collection